.food.photography.girly misc.
I love food.
Consuming it. Creating it. Photo Capturing it. Simply, enjoying it.
Welcome to my little corner of the blogasphere. I'm just your average, not-so-average twenty something girl and I plan on blogging about all the above; I guess you can call this my own little hodgepodge of sorts. Expect an explosion of yumminess and other stuff........maybe.

Get Your Feast On!
Andrea Marie



Blog Awards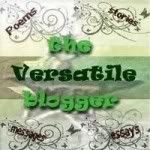 Thanks to Alejandra from "For Moms With Love